Shopping Cart
Your Cart is Empty
There was an error with PayPal
Click here to try again
Thank you for your business!
You should be receiving an order confirmation from Paypal shortly.
Exit Shopping Cart
inspirational living arts
| | |
| --- | --- |
| Posted on January 15, 2014 at 8:14 AM | |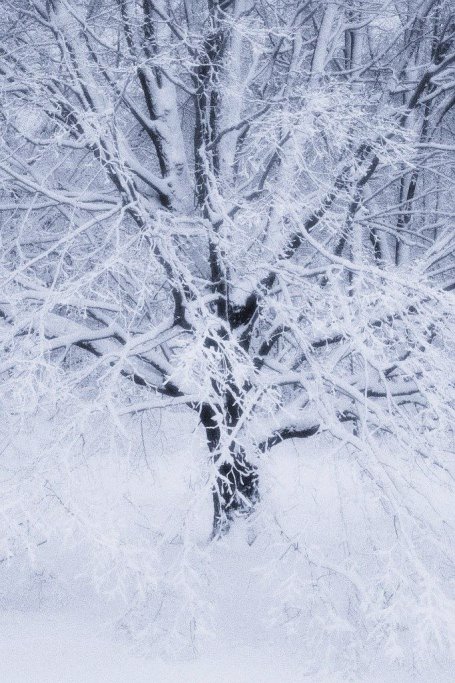 Sometimes animals cross your path and you truly wonder whether their visit was just to help them recover or there's a more profound message in it for you. This story is one such experience. The first week after the 2014 New Year started out with a polar vortex that not only hit this region of WNY very hard, but many areas throughout the country. It's times like those with such extreme frigid temperatures that make you wonder how wild creatures even survive at all, but somehow they seem to manage. Sometimes though, a helping human hand makes all the difference.
The second day of our blizzard had me letting our dogs out and filling bird feeders amidst -6 degrees Fahrenheit and intense winds.  The birds were anxiously waiting for anything that would help them make it through the extreme temperature.  It was the coldest weather I'd experienced in this region in years. We Western New Yorkers are typically pretty tough, being used to this kind of weather and somehow we always seem to make the best out of the situation, but this was intense weather. 
That morning as I moved toward a feeder hung near one of our honey locust trees, I saw a bluejay covered with snow and seemingly lifeless.  His eyes were closed and the only thing that seemed to indicate some life force was the fact one of his feet was tightly clenched into a fist.  Somehow I sensed there might be hope as I scooped him up in my gloved hand and brought him inside. My son was home from school and I told him to warm the bird against his chest in the event he might still be alive.  I went back outside to continue with my morning activities.
When I came back in, my son told me the bluejay was still alive and breathing.  I told him to keep the bird warm until he noticed more life and I gave him a flannel pillowcase to wrap the bird in.  Ordinarily a heating pad is used in wildlife rehabilitation, but I knew in this instance, it was the connection with a living being that this bird needed, even if that being was human and perhaps maybe because he was human.  As I had hoped, my son's warmth and heart intention to bring this bird back from the brink of death, was exactly what this bluejay needed.

After some time, I thought the bird might be ready for some medicine, so I tried giving the homeopathic remedy Aconite in a syringe with some water, but his mouth was tightly clenched shut. Instead I rubbed some Rescue Remedy on his head as the vibration on the skin is often enough to calm an injured animal.  After about a half hour, my son called me from the other room saying the bluejay had put its beak around his finger.  
I knew it was time to give the bird the Aconite it needed to help recover fully from the shock of nearly dying. I'd seen various songbirds and mammals recover quickly from the shock of being hit by a car, after being given Aconite, which is the vibrational imprint of the flower Monkshood.  Aconite is the remedy for shock and works well in extreme cases with wildlife and people. For some reason the medicine of this plant works with the trauma of shock held within the body and acts like a key opening a lock. It can even be used for injuries in the past.
I checked the bluejay and decided he was warm and alert enough to be given some Aconite since his eyes were now open. Because his beak was wrapped around my son's finger, it wasn't difficult to get a syringe in his mouth.  The bluejay swallowed and I knew we just had to wait now.  Again, this is one of those moments when you see the power of homeopathy in full force because you know wild animals don't respond to placebos.  It is unfortunate that those who do not understand homeopathy criticize it as having a placebo effect, because I've seen it work in a variety of situations with wildlife and my son when he was a toddler.  This time, within minutes, the bluejay seemed more vital and looked like he was ready to be transferred to a recovery cage.  It was obvious that continuing to hold him would only invite more stress.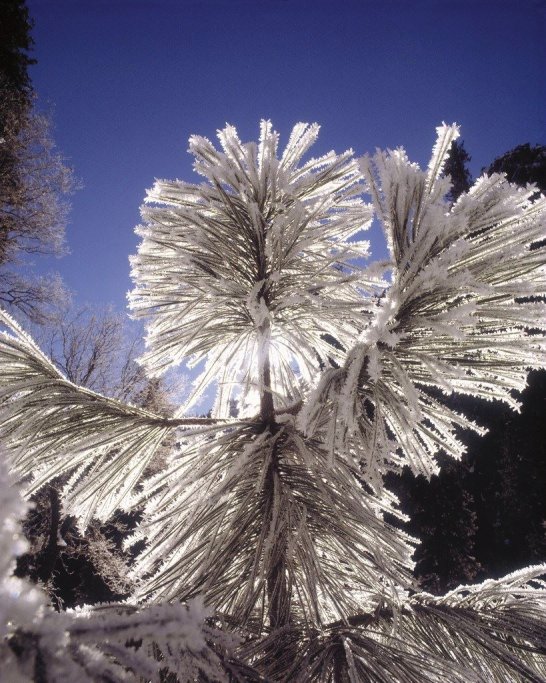 So I transferred the bluejay to his cage and put some sunflower seeds and peanuts in a dish for him, with another dish of water and Rescue Remedy. Several hours later he was already eating and looking like he was ready to continue living the life of an energetic bluejay once again. His recovery had been nothing short of miraculous for us.
Much to our surprise, he even managed to temporarily escape from his cage while putting in more food.  The flight however, quickly tired and stressed him, and at that point it wasn't yet clear whether this was due to a low overall energy or just the stress of our trying to catch him.  It was probably a little of both, but it was obvious he wasn't yet ready for release and the weather was still brutally cold, so release wasn't even an option yet.  My son decided to name the bluejay "Snowflake" although I thought "Blizzard" might have been more appropriate. I gave Snowflake another dose of Aconite and waited another day.
There's a fine line in wildlife rehabilitation between releasing a wild animal too soon before they are ready to be on their own and keeping a wild animal in captivity too long which can also kill them due to stress.  It's always a tough choice for me and many others who help wildlife.  This was no exception, but I waited a few days and I decided to release him exactly 48 hours after I had brought him in from the cold.  Although it was still a cold day, the temperature had increased somewhat and the sun was shining brilliantly.  Snowflake immediately flew to the top of our old maple tree and obviously enjoyed his new found freedom.  I had no doubt in my mind, we had chosen the perfect day for his release.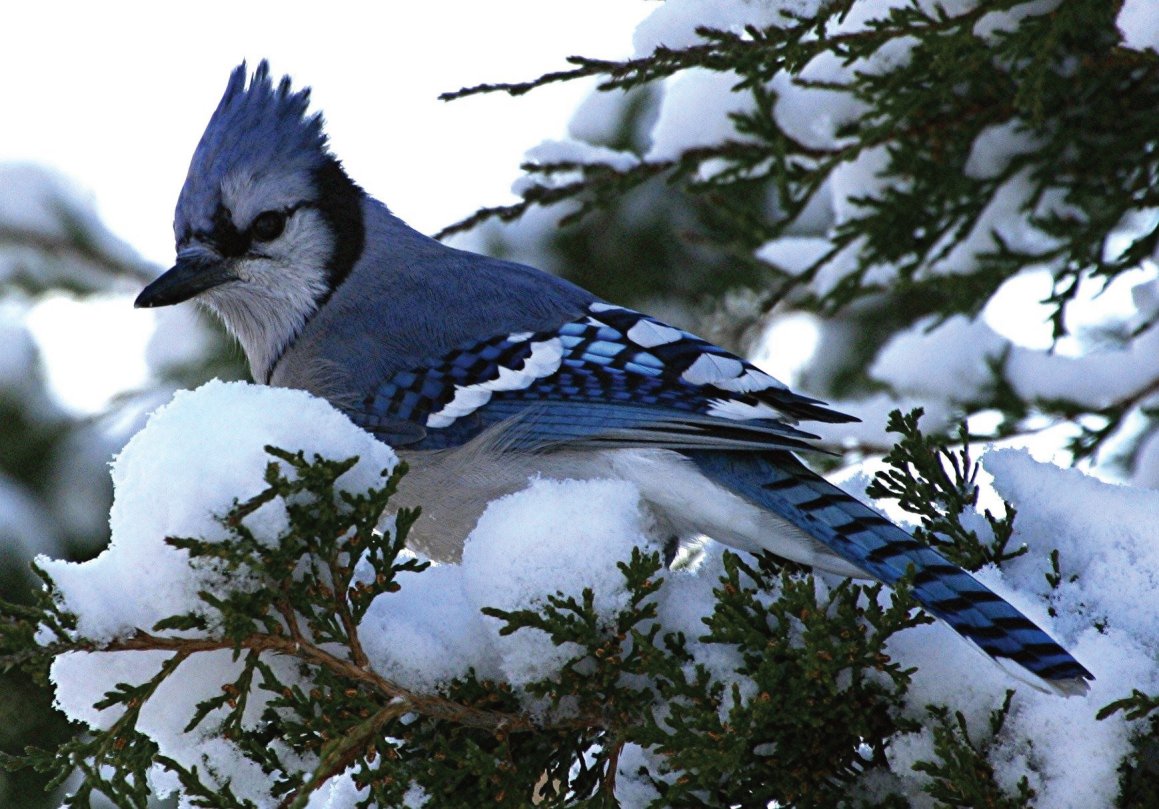 I know that my son will always remember the day we saved a bluejay from the bitter cold during the Blizzard of 2014 and I know I will too.  My son learned that sometimes things aren't always what they appear to be and sometimes, even when things seem hopeless, you might just save someone's life if you try.  I also know that it's not always the outcome that matters, but the intention and the care that we give to someone in need that counts in the overall scheme of things.  Although I know that wild animals die everyday out in Nature, I think it's worth the effort to help a creature in need when they cross your path.
The same day we released the bluejay, I found a tiny Chickadee frozen in the snow not far from our beehive and another bird feeder.  It saddened me that I didn't find this tiny songbird at the right time. Chickadees are one of my favorite songbirds because I love to watch them and admire their high energy, strength and resilience during the coldest of winters. I know I was not meant to find this little one. It was his time to meet the Creator. Two wild birds and one blizzard with two completely different outcomes. Divine timing in life is everything and sometimes... so is seizing the moment.
Blessings of Gratitude!
2014 Copyright Awen Environments/Clarissa Harison.
Categories: Animal Wisdom, Death and Dying, Homeopathy, Inspiration, Living Arts, Nature as Teacher, Planet Earth, Plant Medicine, Spiritual Ecology, Spirituality, Vibrational Medicine, Wildlife as Teacher, Wisdom of Chaos
/