Shopping Cart
Your Cart is Empty
There was an error with PayPal
Click here to try again
Thank you for your business!
You should be receiving an order confirmation from Paypal shortly.
Exit Shopping Cart
inspirational living arts
| | |
| --- | --- |
| Posted on November 1, 2014 at 2:55 PM | |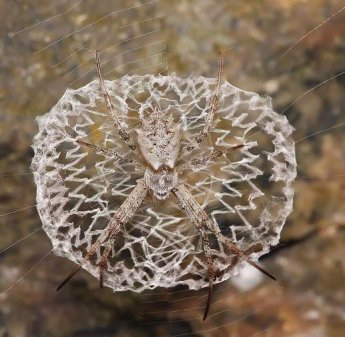 As time goes on I realize that so much of what we've been taught or have a tendency to fear is actually associated with balance and light. This story is about a marbled orbweaver spider that I found this summer in one of my gardens. I named her Charlotte after the spider in the book "Charlotte's Web" by American author E.B. White.  I had always enjoyed the book and later also the movie because it held a special message regarding seeing the world differently and how sometimes the seemingly impossible can be achieved (photo of an orbweaver spider by Nicholas Ta). 
I observed Charlotte on a regular basis this past summer over several months weaving a new web every night. As I came to know this tiny creature better, I realized there were many things she had to teach me. Perhaps most would find it unusual that I would spend time writing about a garden spider, but I felt very strongly about sharing Charlotte's story particularly at Halloween time here in the US. Perhaps also some reading this would learn to appreciate and respect this highly persecuted and misunderstood insect which I believe is one of the most creative of God's tiny creatures alongside the honeybee, albeit in a very different way 
One day I woke up to find a myriad of beautiful dew covered webs all throughout my gardens. The effect was purely magical and I marveled at how many of these spiders were actually in my gardens. Someone who is afraid of spiders would definitely have been overwhelmed, but for me it was the opposite. I realized how far my gardens had come and how revitalized this little plot of land now was, something I had written about previously in a 
blog
. The land had once mostly been just lawn and now this backyard was teaming with biodiversity with all sorts of beneficial insects, birds, flowers and wildlife. My new hive of honeybees were doing well and I had so many varieties of orbweaver spiders to keep a healthy balance in my ecosystem. This balance would in turn draw new forms of wildlife. Each day I would observe Charlotte and acknowledge her in some way as I took my walk through the gardens.
The time came when I saw that Charlotte could no longer weave her beautiful web and only a few strands at best. Her body was about the size of a dime, full and round and looking like it could burst. I knew it was nearing the time when she would lay her eggs and then die as in the book. It saddened me to think that this little garden friend I had come to know was leaving. She stayed a few more days until she weaved no longer and then one morning she was gone, having descended to the ground to go back into the earth from whence she came. I knew I would miss her.
As I thought about Charlotte and the progression of her life, I knew I had gained a new found respect for this particular type of spider called the marbled orbweaver. Unlike some other species of spiders, she only came out at night and each time she would weave a completely new web.  Inevitably it would become damaged throughout the day and sometimes completely destroyed either from the weather or from animals and insects. 
It amazed me that Charlotte would tirelessly weave her beautiful and complex creation anew each and every night one strand at a time. I thought about how hard it would be for humans to create a work of art or a garden from scratch only to have it eventually destroyed repeatedly. I had certainly felt that anguish and frustration with my own gardens after I had left certain homes in the past. Here was this tiny spider weaving a work of art every night. What a monumental task for a creature so small and with so short a lifespan. So much could be gained by humans if we had nearly as much resilience and wherewithal in striving toward our goals or completing creations despite whatever came our way.
One day a really tiny spider also taught me something after Charlotte left. It was another dew covered morning when I spotted a new web in one of my fir trees. This spider had built a spectacular web between some branches one night. The spider was nowhere to be seen, so I assumed it was another marbled orbweaver because they tend to hide during the day, but I was wrong. To my astonishment the following day I found a very tiny spider had built this huge new web. I thought perhaps she was a baby orbweaver. I called her Maya for illusion, but she quickly disappeared. Maya had created a web to rival that of any orbweaver much larger than her own size simply by using the same principals of weaving. Her small size and seeming limitations had not hindered her in the least.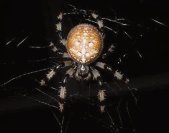 It appears the last of the orbweavers have laid their eggs and died due to the colder temperatures but they have all left me with admiration and a new awareness and thoughts about the mysteries of the universe. What task lies before you that seems to be overwhelming? Do you ever think that your own actions cannot effect change because you are only one person? What are you weaving in your web of influence? What seems out of reach at this time? We are only limited by our beliefs. Perhaps we can take inspiration from the tiniest of beings that surround us and weave something new and more spectacular in this world.
Blessings of Creativity!
2014 Copyright Awen Environments/Clarissa Harison.
Categories: Animal Wisdom, Earth Energies, Earth Rhythms, Gardening with Nature, Geomancy, Health & Wellness, Insect Wisdom, Land Abuse, Living Arts, Nature as Teacher, Planet Earth, Plant Medicine, Spiritual Ecology, Spirituality, Wildlife as Teacher, Wisdom of Chaos
/