Shopping Cart
Your Cart is Empty
There was an error with PayPal
Click here to try again
Thank you for your business!
You should be receiving an order confirmation from Paypal shortly.
Exit Shopping Cart
inspirational living arts
| | |
| --- | --- |
| Posted on October 11, 2013 at 10:35 AM | |

If you practice homeopathy, there are surely remedies that are your favorites.  I have several, but the one that always helps me with extreme situations is Belladonna.  When I first began my studies in homeopathy, my teacher talked about the pictures of several remedies and one of them was Belladonna. What I always remembered about her lecture was how 
Belladonna,
  because it was made from the vibration of a poisonous, psychotic plant, had the ability to "restore light from darkness."  That picture has always stayed with me over the more than 15 years that I've been using homeopathy. Over and over this concept has presented itself in a variety of interesting ways and I know for that reason this is one of my allies whose capabilities never ceases to amaze me.
Most recently I had an extreme situation that occurred after having my 7 month old shiba inu puppy spayed after being vaccinated with a rabies shot one week prior.  I will never know exactly what caused such an extreme reaction in her behavior, whether it was the combination of the rabies shot with the morphine that was used after surgery, or whether the anesthesia itself caused a shift in her consciousness.  It is possible that all of the things together combined with her sensitivity, caused such an extreme shift in behavior that we thought we'd never have our sweet, fun loving puppy back with us.
Although the rabies vaccination passed without any noticeable problem the week prior, as soon as we picked up Sachiko (Japanese for child of happiness), we noticed she was very lethargic and in a great deal of pain because every time we even touched her, she cried out.  She refused to eat anything but a small treat that evening and even that she eventually threw back up. She slept through the night, probably due to her pain medication, and the following day she raced around as though she was back to normal. It wasn't until evening of the next day that we noticed an unusual change in her behavior. Sachi started to become extremely irritable and began growling at our other dog.  She also began twisting and contorting her body in obvious discomfort.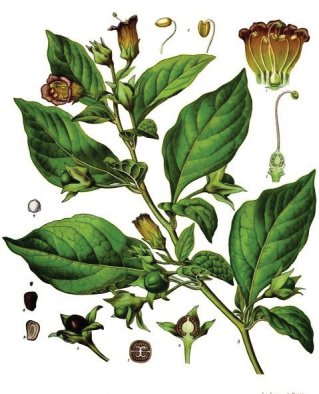 Other extremes have included when my son was a toddler and he developed such a severe headache that he was sobbing and asked me to take his head off because it hurt so much.  Another was when he was in kindergarten and came off the bus one day severely traumatized by an older child who had bullied him.  His mind became delirious as he raved and only Belladonna could comfort him.  In both instances, my son went from either extreme pain or emotional trauma to tranquility and sleep in a matter of minutes.  It's hard to imagine this type of response, if you haven't experienced it yourself.
Repeatedly Belladonna has worked in a variety of ways and situations where perception and/or pain were severe with an extremely sudden onset.  Despite Belladonna being a psychotropic plant in it's original state, the energy pattern held within the homeopathic remedy is able to transform the person or animals from a state of darkness to one of light, clarity and health.  It simply is one of my greatest allies.
Blessings of Health and Clarity!
2013 Copyright Awen Environments/Clarissa Harison.
Categories: Alzheimer's Disease, Animal Health, Health & Wellness, Holistic Health, Homeopathy, Living Arts, Nature as Teacher, Planet Earth, Plant Medicine, Vibrational Medicine, Wisdom of Chaos
/