Shopping Cart
Your Cart is Empty
There was an error with PayPal
Click here to try again
Thank you for your business!
You should be receiving an order confirmation from Paypal shortly.
Exit Shopping Cart
inspirational living arts
| | |
| --- | --- |
| Posted on June 15, 2011 at 10:08 AM | |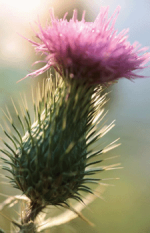 Bull thistle which most tend to eradicate because of their prickly leaves, actually have beautiful fuchsia colored flowers when allowed to bloom and the bees and butterflies love them, not to mention the goldfinches who later use the downy thistle to line their nests and lay more eggs in late summer.  Queen Anne's Lace, a member of the carrot family, cleanses the soil and builds long taproots to aerate and draw nutrients from bottom layers of soil.  Getting a Field Guide to wildflowers helps you to identify what's growing in your yard.  More than likely, it's probably something not only your soil needs, but also your own body, as many wildflowers are highly medicinal and edible (only make sure you know what the plant is before you eat it). 
By allowing wildflowers to grow naturally on your property, your soil is getting exactly what it needs because these plants are correcting imbalances that exist in the soil. Daisies, for instance are often an indication of soil that is becoming acidic and if allowed to grow, they add the necessary nutrients to the soil helping to restore balance and create healthy humus.  Many other wildflowers do the same.
I find it interesting that most people only find tall grasses and flowers valuable/acceptable when they've paid for the cultivated ones from a nursery.  Take a look at your landscape and see how you can work with it creatively, whether it's creating a meadow area, a hedgerow of wildness between a neighboring property or along the road in sewer drainage areas so the plants can filter out the road dust, cleanse the waters and create a sense of more privacy.  And if you're concerned about how your property may look to neighbors, you can have your property
certified as wildlife habitat
by the National Wildlife Federation and place a sign announcing your intentions. 
"It may be that some little root of the sacred tree of life still lives. Nourish it then so that it may leaf and bloom and fill with singing birds."  --Black Elk
You'd be surprised how Nature responds when you look at her with different eyes.  And your own life will change accordingly.
Summer Solstice Blessings!
Copyright 2011 Awen Environments.
Categories: Earth Rhythms, Gardening with Nature, Green Living, Healing Water, Health & Wellness, Holistic Health, Living Arts, Planet Earth, Plant Medicine
/